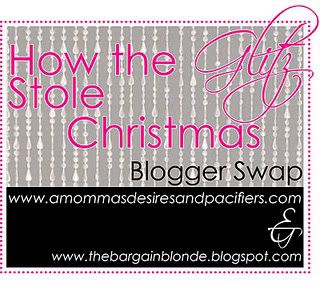 I participated in my second blog swap hosted by two lovely blogger friends, Raven and Lindsey and it was so much fun!
I was partnered with the Fabulous Marcy from...
Check out her blog, and wish her a big congrats because she just found out that she's expecting! Anyway, below are the awesome goodies that she sent me...
She sent me some awesome nail polish, a super cute lip gloss, and a scarf and sparkly head band! I love it all and it will be great for the holidays. Thanks Marcy!
Also, you might have noticed my new blog layout. I LOVE it and I would love to hear your thoughts too! Please check out the link below to learn more about the fabulous designer, Sweta, she was great and I HIGHLY recommend her for anyone needing a blog makeover!